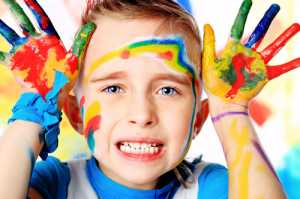 The author, Juliet Hiznay, is a special education advocate and attorney in private practice in Northern Virginia. For information about her practice, visit http://jdhiznay.com/ 
It's almost August and this is about the time when summer starts to fray on nerves, at least that has been my experience. This is even more the case for families with children with special needs. Does this sound familiar? Your kids are off schedule, lack routine, have trouble occupying themselves ("I'm bored."), tired of jumping from camp to camp, exhausted from traveling, irritable due to an overload of "fun" in the sun, staying up too late at night — because it is hard to go to sleep when it is still light out and who wants to miss the Summer Olympics?
So if you are pulling out your hair by this time of summer, like me, what is the solution? I like to create a daily activities checklist with a mix of items. The idea is to be proactive rather than reactive. Summer is supposed to be a relaxed time, but lack of structure can be very stressful for everyone. A little bit of structure in summer can be a good thing, especially as school approaches.
My goal for the checklist is to create a routine that will help ease my kid back onto a schedule while maintaining or adding skills. The checklist should mix independent activities with supervised activities and group activities to allow for quiet time as well as social time and should be tailored to each child. Some examples could be: one defined art project a day such as copying work done by a master, playing a card game or board game, playing Simon Says or Twister, outdoor exercise — such as an early evening bike ride or trip to the playground, playing an educational IPAD/smartphone app that addresses a specific weakness or completing an academic worksheet, a daily trip to the library. The kids can check off each item as they do it, and if your schedule permits they can choose when they do each item. This provides a sense of ownership and pride in accomplishment. It doesn't hurt to add an incentive if they complete all their activities, such as a trip to the bowling alley with a friend of their choice. Importantly, some of these activities require the parents to have fun with the kids. To quote Dr. Seuss: "These things are fun, and fun is good."
It may take you an hour or more of careful thought to develop a daily activities checklist, but the rewards can be quite surprising. Before you finalize your draft, make sure to include your kid in the process – if they can contribute to the list, they are less likely to resist an effort to bring order to chaos.
Posted July 31, 2013; All Rights Reserved Juliet D. Hiznay
[socialring]